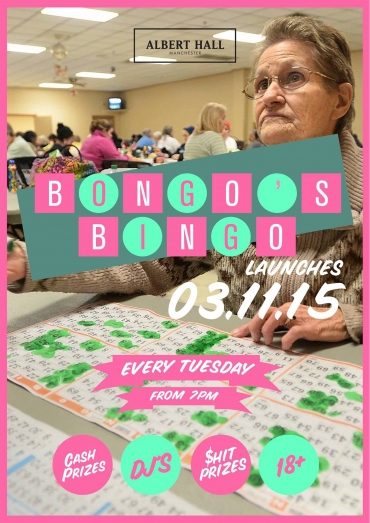 The chaotic and ironic version of the game played by your Nan is coming to Manchester. After 6 months selling out almost every week in Liverpool's Camp and Furnace, the Manchester version is going to be equally messy and no doubt just as popular!
Organiser Joshua Burke said "we still cannot believe the popularity of the Liverpool version and are now having to do two per week! This is no doubt thanks to our amazing host Jonny Bongo who works the room into a frenzy shouting "I'm in Love with the Coco" amongst many other bizarre rituals and hilarity. When we approached the guys at Albert Hall we were shocked to find out they had already been over to Liverpool for the event and loved it. Working with them has been amazing and we look forward to doing so for a long time in the most beautiful space in Manchester."
The launch is on Tuesday 3rd November. Doors open at 7pm with the first game starting at 8pm. Entry is just £3 for a book and dabbers are available too!
Eyes down to win cash prizes, "$hit" prizes and lots of mayhem! Please be warned… this is no ordinary bingo… this is BONGO'S BINGO!