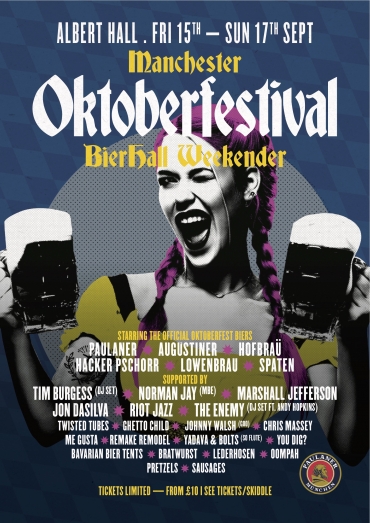 KTOBERFESTIVAL WEEKENDER
SEPTEMBER 15TH-17TH 2017
Albert Hall will be hosting Oktoberfestival, a Bier Halle Weekender taking place over the weekend of September 15th – 17th. The Hall will be transformed and decked-out to the full to recreate the raucous, sociable atmosphere of the world famous beer festival.
We'll be serving up the largest selection of the limited-edition Oktoberfest beers, including Paulaner, Hofbrau and Hacker Pschorr. The venue will feature authentic Bavarian Bier tents, Lederhosen, Oompah, Wurst Olympics, Pretzels and an eclectic line-up that will satisfy everyone music preference.
————————————————-
SESSION 1 // OFFICIAL LAUNCH PARTY
FRIDAY: 5PM – 11PM
– Lord Mayor of Manchester, World Record sausage eating, Norman Jay (MBE), Twisted Tubes, You Dig?, Ghetto Child
BUY TICKETS FOR FRIDAY NIGHT SESSION HERE
————————————————–
SESSION 2 // DAYTIME INDIE DISKO
SATURDAY: 12PM – 5PM
– Tim Burgess (The Charlatans) DJ Set, Andy Hopkins (The Enemy) DJ Set, Jonny Walsh (GOO), Remake Remodel
BUY TICKETS FOR SATURDAY DAY SESSION HERE
————————————————–
SESSION 3 // MCR HAUS MUSIK
SATURDAY: 6PM – 11PM
– Marshall Jefferson, Jon Dasilva, Chris Massey
BUY TICKETS FOR SATURDAY NIGHT SESSION HERE
————————————————
SESSION 4 // SUNDAY JAZZ RINSE OUT
SUNDAY: 12PM – 5PM
– Riot Jazz, Yadava & Bolts (So Flute), Me Gusta DJs
BUY TICKETS FOR SUNDAY DAY SESSION HERE